Corporate Membership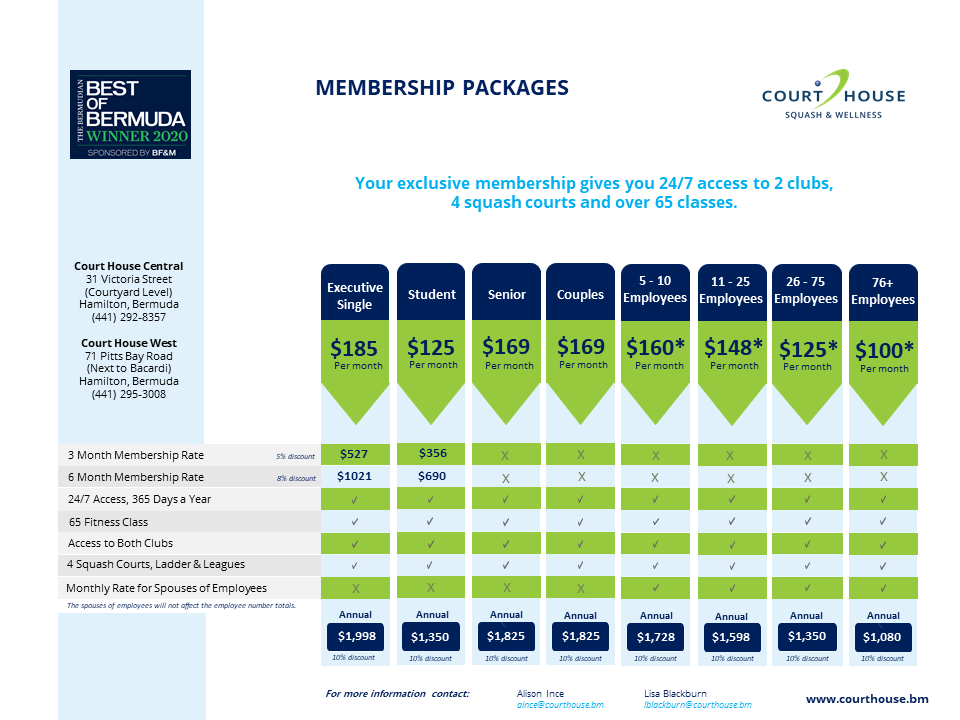 Make health and happiness a perk of the job!
People are the most important asset of any company. Give your people an incredible employee benefit, with a Corporate Membership at Court House.
Yes, statistics indicate healthier employees = reduced absenteeism, increased productivity and higher morale. But ultimately your team will just be super pumped to know that you care about them and their well being. Win, Win.
Option 1 - Preferred Corporate Monthly Sliding Scale Membership
Five (5) or more employees
Employees enjoy everything Court House has to offer 24/7, 365 days a year!
5-10 employees $160, 11-25 employees $148, 26-75 employees $125, 76+ employees $100
Option 2 - Preferred Corporate Annual Sliding Scale Membership
Five (5) or more employees
Employees enjoy everything Court House has to offer 24/7, 365 days a year!
5-10 employees $1728, 11-25 employees $1598, 26-75 employees $1350, 76+ employees $1080
Payable at the beginning of the contract
Option 3 – Wellness Membership
Based on the total number of employees (10 or more)
Employees enjoy everything Court House has to offer 24/7, 365 days a year!
The cost per employee reduces significantly (minimum of 25%)
Payable at the beginning of the contract for the duration of the contract
Get the scoop on Corporate Membership
Preferred Application
Wellness Application