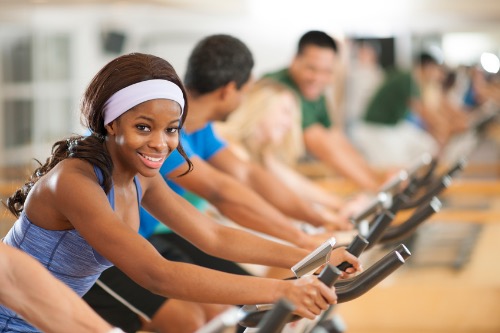 Group Cycling Classes
Our state-of-the art Cardio Theatre (heart rate-based classes) ensures that you are exercising at different heart rate intensities - the best way to improve your fitness! Our classes will inspire and guide you toward achieving individual training targets and ensure you get results!
Group Cycling is a great workout and we have 20 classes a week to choose from!
Group Cycling classes can be a great way to get in a vigorous workout - burning calories and keeping your muscles in shape. Group Cycling consists of instructor-lead classes on specialized stationary bikes. All classes follow an all-terrain format using flats, hills, sprints, jumps and variations. Classes are 40 and 55 minutes in length and are geared for participants at all fitness levels.
In Group Cycling classes, the intensity of the workout is influenced by a few things:
cadence, or pedal rate
resistance of the bike's flywheel, which can be continually adjusted throughout the class to make pedaling easier or more difficult
by the rider's body position, as they either pedal from a seated position or rise from the saddle.
Ultimately, participants determine their own levels of exertion, but a good instructor can certainly encourage and motivate you to push yourself, and you'll most likely find group cycling to be a vigorous workout and a great way to stay in shape.
"I began attending Court House Group Cycle classes fifteen months ago as the anchor of a fitness and weight loss program. I improved quite rapidly, reaching my target weight loss of twenty five pounds in twelve weeks. I've continued the classes and maintained my fitness (and weight) since then."
- Tim Hulse
Why Group Cycle?
The benefits of Group Cycling include ALL, yes ALL, of the following:
Burn Calories
Improve Cardiovascular Health
Progress at Your Own Pace
Enjoy an Effective, Low Impact Workout
Achieve Toned, Shapely Legs
Lower Your Body's Workout Breaking Point
Get a Great Abdominal Workout
Have Fun Riding Together