What is so great about Technogym's SKILLMILL™?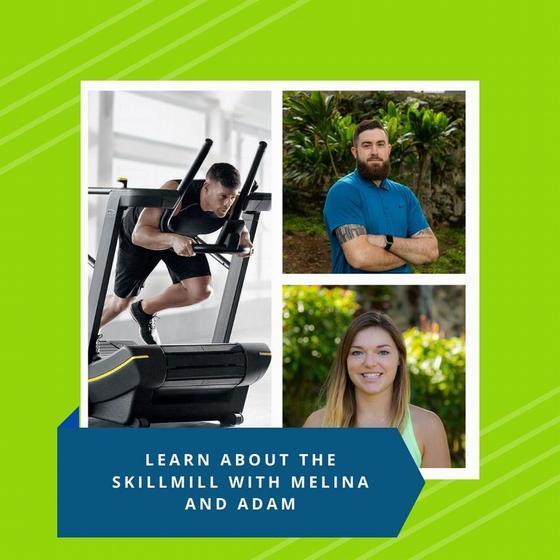 The SKILLMILL™ is a hidden gem at our club. The non-motorized treadmill is used heavily by elite sports clubs around the world. You are fortunate to have this powerful machine at your fingertips.

We know it can be intimidating. This is why we have asked Adam and Melina who are professionals in their respective sports to give examples of how they use the futuristic machine to up their game.
Why should members use the SKILLMILL™?
Adam: I think members should use the Skillmill because it is an amazing piece of equipment that is powered completely by the member with no assistance. Resistance training is really at the forefront and its sleek shape allows you to keep a natural running motion that is a bit easier on the joints and highlights the strength in the legs.
Why do you think it is so widely used in professional sports?
Adam: I think it is widely used in professional sport because of its effect on the athlete's longevity. It can be used as a component in both strength training and rehab.
Melina: As a squash player, it is important to train in intervals of medium to high intensity to replicate the rallies in a squash match and the Skillmill can help with this.
How do you use the machine to develop in your sport?
Adam: With basketball, you are frequently in a defensive position. It helps me strengthen my legs and build endurance to stay down in a defensive stance for a longer period of time.
Melina: I use the Skillmill to run interval workouts of medium or high-intensity sets followed by short rests. My favourite part about the Skillmill is how rapidly you can get to your desired speed and slow down from that speed. On a treadmill, it can take several seconds to switch between high speeds and low rest speeds, which can waste time in your session.
What are your favourite exercises on the SKILLMILL™ and why?
Adam: Sprints because in basketball there is a lot of stop and go and short sprints with no assistance. Building strength and muscle memory on the Skillmill helps me in the long run. The ability to stay low is essential in my sport so having that endurance on the defensive end is crucial.
Melina: Leg exercises. Squash also requires a lot of leg power to sustain a series of lunges to the ball and pushing out of lunges to recover to the middle of the court (the "T"). To gain power in my legs I use the Skillmill for a "sled push" workout and put it on the highest resistance while working in shorter intervals of maximum speed pushes followed by longer periods of rest.
If you have never used it before, what is the best way to start?
Adam: The best way to start is probably just doing short sprints; other than that I would say to speak with one of our highly trained personal trainers as they have a multitude of exercises that can help all levels of fitness get better.