Three ways to accelerate progress at Court House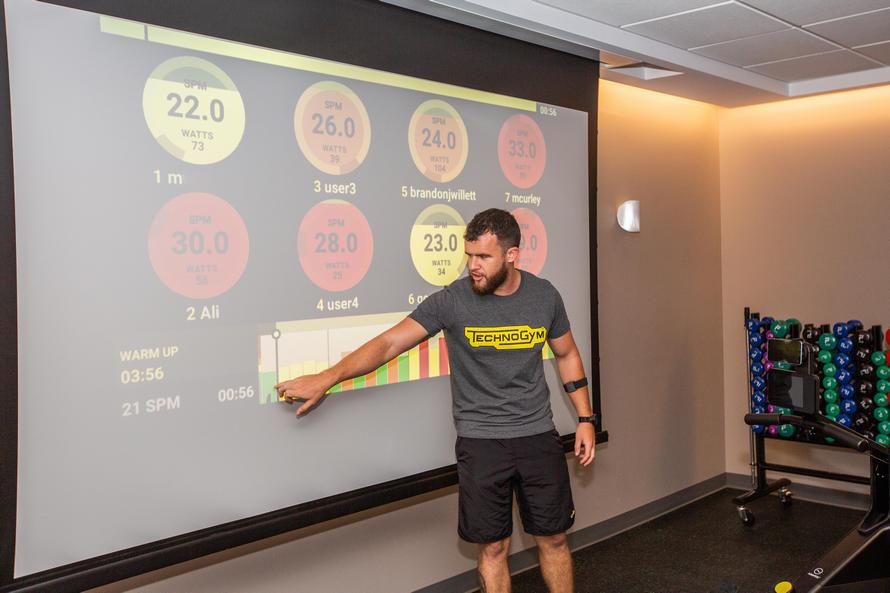 Our founder, Richard Burns, is a big fan of technology. He believes that measuring progress is paramount. It's no surprise then that the group cycle studio, rowing studio, and the MyWellness app are all designed to give you immediate access to your fitness data so you can understand and improve your performance.
If you haven't taken a data-driven approach to fitness yet, here's how you can start.

Group Cycle

The group cycle studio at Court House West is our hub for indoor cycling. Its futuristic setup boasts Technogym's Group Cycle™ Connect indoor bicycles - the world's first and only indoor cycling bike that tracks workouts. With connectivity to the Wi-Fi connect console through Bluetooth, NFC technology, QR codes or MyWellness, you can download your performance data and set up strategies for success.

In addition to accessing data for future planning, you are held accountable for your performance in group cycle classes. Depending on the settings used by the class instructor, participants can emit their cadence (rpm), power output (in Watt with +/-2% accuracy), calorie consumption and speed on the projection screen at the front of the class.

Indoor Rowing

Similar to what we did with indoor cycling, we saw an opportunity to improve the indoor rowing offering in Bermuda. By investing in SKILLROW™ machines, a product born out of the collaboration between Olympic rowers, Technogym and researchers at Loughborough University, we have proudly created an unrivalled experience.

Created for sports performance training, this machine not only resembles the feeling of rowing in water but provides excellent data, so much so that professional teams are investing in the same machines that you have access to at Court House Central. Similar to the bikes in our group cycle studio, the SKILLROW's console will allow you to monitor your performance data including power (Watts), strokes per minute (SPM), distance, time, heart rate and calories burned on the projection screen and mobile if you are connected.

MyWellness

A major benefit to your membership at Court House is the ability to take advantage of the MyWellness Cloud by Technogym. All of the Technogym equipment at our locations are connected via Wi-Fi to the MyWellness Cloud and offer members a personalized fitness experience on mobile and tablet devices.

Members who are using the MyWellness App can log their workouts, review data with our personal trainers, use QR codes on machines to display exercise videos and connect with other activity tracking platforms such as RunKeeper, Map My Fitness, Strava and much more.

You can download the MyWellness App by Technogym in the Apple App Store and the Google Play Store, and use your real-time data to reach your goals. Download the MyWellness App today and transform your fitness journey.