Supermarket strategies for smart nutrition choices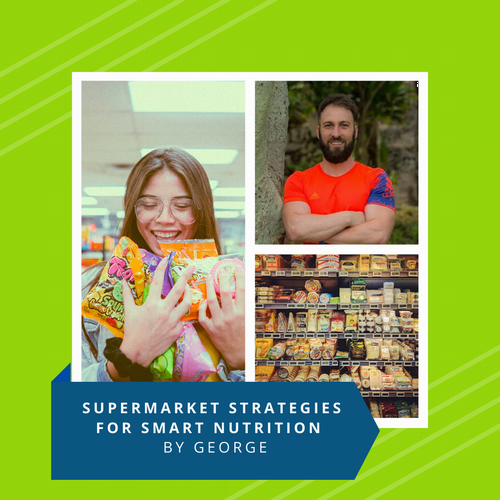 Smart grocery shopping is key when transitioning to a new way of eating. Sometimes heading to the grocery store can be a stressful, agonizing experience if you don't have some judicious food-selection strategies in place before you get there. If you don't have a plan of attack, you may be tempted to put into your cart various items from your past habits, items that may hinder your goals, cloud your focus or lower your self-confidence. The foods that make their way into your cart will make or break your ability to adhere to your new way of eating and living.
As with actually eating, my advice for grocery shopping is to keep it simple. The food industry spends a ton of money researching how best to manipulate us into buying their cheaply made, nutrient-depleted products. Food manufacturers are targeting your children too, by strategically placing kid-friendly processed junk at their eye level with popular cartoon characters on the packaging.
With so many choices at supermarkets today, it's hard to know how to go about selecting foods that are enjoyable, nutritious and affordable. In addition, our busy schedules don't allow us to spend hours in a supermarket comparing costs and nutritional content among the various food products.
To help you out, here's a list of 10 supermarket shopping solutions to help you select economical, nutritious foods easily and quickly.
Shop with a grocery list to prevent impulse-buying and forgotten items. Buy only what is on this list unless a food item is on sale and can be substituted for another food on your list OR a food that you buy regularly is on sale. Taking a little time to plan ahead is guaranteed to save you significant amounts of time and money. But, unless it's a simple task, it can be hard to keep up with. Here is a simple six-step strategy for compiling the list. Give it a try!
Step 1: Map your meals. Start by mapping your meals for the week. Use a calendar or just list the days in a notebook or your smartphone. Think about when you'll have time to cook from scratch and when you'll need to use convenience-food products.
Step 2: Take inventory of your freezer, refrigerator and pantry or cabinets. Look to see what foods and spices you have already. Also, look to see what foods might expire soon so that you can plan to use these foods up. Record what you find and make any changes to your meal plans.
Step 3: Make a master list. Use your menu planner and inventory records to create a list of foods and ingredients that you'll need for the week's meals.
Step 4: Create categories of foods and put them in the order that you'll find them as you walk through the store. This will help ensure that your meals include a mix of healthy foods. You can print out blank copies of this category list so that you'll have a clean one each week.
Sample Categories:
Fruits
Vegetables
Cereal
Rice and pasta
Staples, condiments and miscellaneous foods
Beverages
Meat, poultry, fish
Dry beans, nuts
Eggs
Milk, yogurt, cheese
Fats, oils
Convenience-foods
Step 5: Arrange your foods into categories. Put the foods from your master list into the categories that you created. If you want to wait until you're at the supermarket before deciding what specific foods to buy within a category, write how many items you need from that group (such as lean meat for 5 meals or whole-grain, high-fiber cereal). Keep this list in a place where your family can see it so they can add to it too.
Step 6: Set aside a day and time for your weekly trip to the supermarket. Try to establish a particular day and time that you can do your weekly shopping. This will ensure that you allow yourself the time needed to do focused shopping.
Shop on a full stomach to avoid unplanned purchases or selecting convenience-foods that may have a low nutrient density. You've heard this before and it's a good tip for a good reason. Your brain's primary biochemical response when you are hungry is to encourage you to seek out sugar (it's been known that hunger means low blood-sugar levels and sugar presents the quickest way to raise them). Be a smart player of this grocery shopping game and get some protein, healthy fats and carbs in your system before you start. Leave the decisions to your head, not your stomach!
Choose a supermarket that offers a variety of foods at a variety of prices. Larger supermarkets will usually have lower prices than smaller stores because the larger stores can buy their stock in large quantities.
Pay attention to the unit price of a food product (it is usually listed on the grocery shelf in small print near the product's price). If the unit price of a food is lower when purchased in a large quantity, buy it only if you will eat all the food before it spoils.
Try store-brand or generic products. There is often little or no difference in quality and nutritional content between these and expensive brand-name foods. However, it's still wise to compare nutrition information.
Decide which convenience-foods you really need. While prepackaged, pre-washed, and pre-sliced foods are more expensive, the reduced preparation time may or may not be worth the extra money.
Spend most of your time in the produce, meat, dairy and bakery sections. But don't stop there! You'll find lots of nutritious foods like beans, whole-grains and cereal in the other aisles.
Assume that anything you put in your cart will end up in your mouth. We've all had those moments where we put a few items into our cart that we really don't plan on eating; this behavior almost never serves us. Fill your cart with those items that you feel confident will nourish your body. When in doubt, leave them out! You have the power to determine what goes into your shopping cart and consequently, in your home and in your body. You can get past those tricky marketing strategies by sticking to your list, grazing the perimeter of the store and spending most of your time in the produce section, reading your labels and not falling for catchy terms.
Healthy eating does not have to mean paying more for your groceries. Making healthy changes might mean shifts in food choices such as choosing no-sugar-added yogurt instead of processed fruit snacks, or you might need to change a method of preparation, such as baking chicken instead of frying it.