Members Spotlight: Shane Burrows
For this month's Member Spotlight, we sat down with a savvy 18-year-old business student from Bermuda College who has transformed his life and is now inspiring others, including us.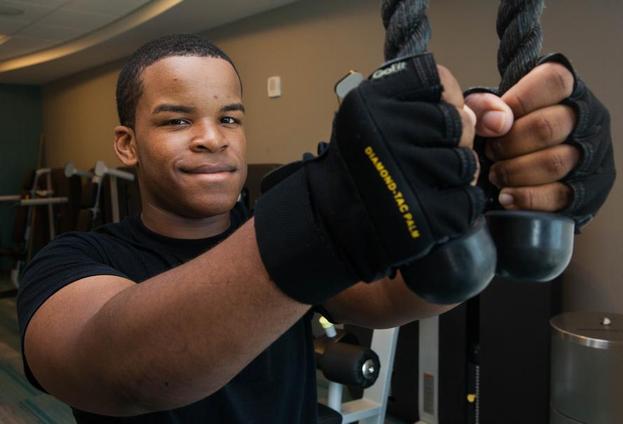 After searching for gyms online, Shane came across Court House and joined last December with his friend Sean Fulton. He started taking fitness seriously in January and has kept going. Until this point, he tackled the grueling INSANITY workout at home over a two month period and felt self-conscious about leaving his home due to his weight. That soon changed once he fell in love with Court House West, a place he calls his "stress-free zone".

Shane is a dedicated gym goer now and follows a self-researched routine and can be found at Court House West every day apart from Sundays spending on average 2 - 3 hours per visit. His determination is both admirable and inspirational. He joined as a member weighing in at 272 lbs and smashed his goal of losing 50 lbs in the first four months and now looks very trimmed at 219 lbs. He hasn't stopped though, he is closing in on his ultimate goal of being 180 lbs before he heads off to St. Mary's University in Halifax, Nova Scotia.
When asked what keeps him focused, Shane shared, "I'm doing this for me and only for me. Not doing it for girls. I have to change my life. I was bullied because of my weight and was depressed, I put it behind me. When I'm on the treadmill running, I feel like I am running from my past". Shane credits his friend Sean as his first motivator, "if it wasn't for Sean Fulton, I wouldn't be here. He was the first motivator on my Journey."

Sean describes Shane's fitness journey so far as, "challenging, exhilarating and empowering" and shares that he "was also overweight. I wasn't very happy and satisfied with the way my body looked. I wanted to have a healthier and fit body. So, I thought that by joining Court House it will enable me to achieve my "body goals", as they have the best fitness equipment around that will help me get the most from my workouts".

Anyone who uses Court House West often knows that you can't get too far without a warm welcome from Alison Ince, our bubbly Manager at Court House West. She took to Shane straight away. "When Shane first started coming to Court House he looked a little nervous because everything was new to him. We would chat every time he came in and I saw his confidence grow with every workout. I am so impressed with his dedication to take control of his health."

Shane has now transformed his body, diet, and now identifies with fitness as a way of life. He uploaded a post on Instagram of himself standing in an old pair of jeans and was really encouraged by the response. "A lot of people gave me compliments - a lot of people believed in me, I have to keep it going". He is now "trying to inspire people like me, teens who were bullied like me - you can always change your life."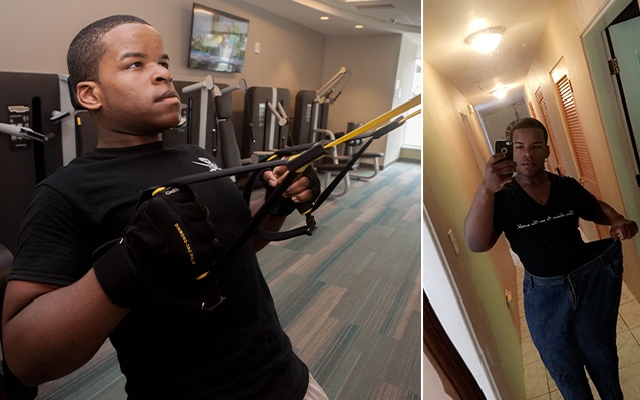 When asked, what encouragement would you give to others who were in Shane's position, Sean replied, "If you're not happy, satisfied or confident with the way your body looks, then you have to act to change it. It is never too late to change for the better. if you're feeling embarrassed and scared to go to the gym, don't be. Every journey has to start somewhere. Also, the mentality is everything.

Shane answered the same question with, "don't strive for perfection strive for progress. Start, build your way up and take one day at a time. Learn from your own body".

This is the first of a new monthly series, Members Spotlight, that focuses on people in our membership who have inspirational journeys to share. If you would like to share your story or know of anyone we should make a fuss of, please contact [email protected] or [email protected].

We all can identify with the desire to be better and work towards a higher goal but sometimes it is hard to stick to it. For those of you working on your fitness journey, Alison has a great message for you. "Remember that we did not suddenly wake up unhealthy. When it comes to creating lasting changes in our health, we often fall into the trap of making ambitious goals that we expect to easily accomplish. Set realistic goals. Before you start on any health and fitness journey. Consult your doctor and then book a session with a Personal Trainer who can work with you on a plan. Shane can tell you that what really starts off for most people as just a weight loss journey, has so many benefits like self-confidence, renewed energy and just feeling great!"