Members Spotlight: Cindy Redford
Cindy Redford is a driven member of the club who has been with us since we opened our doors nine years ago. She radiates positive energy and is a passionate Equestrian whose love for horses knows no bounds.

Cindy fractured her left femur after a riding accident at the National Equestrian Center on January 30th, 2016. She shared with us the details of her accident and how she made it through her long recovery with the help of Court House Squash & Wellness.

Originally from Los Angeles, Cindy has lived in Bermuda for 23 years. "I first visited Bermuda in 1994 and immediately fell in love with the Island. I moved here the following year and have called it home ever since. It was quite a transition going from a large city to a small island, but it was made easier with the help of my husband, my friends and all the great people I work with at Freisenbruch-Meyer Group."

Over the years, Cindy has enjoyed owning, co-owning and leasing some wonderful horses while riding at Hinson Hall Stables in Devonshire. For many years, Cindy competed successfully in Hunters, Jumpers, Equitation and Dressage at shows both locally and overseas. Cindy even represented Bermuda in the 2012 FEI World Dressage Challenge Competition securing a 1st Place in the Adult Preliminary Test.

Between riding and work, Cindy could be found at Court House participating in spinning classes or personal training sessions. When at the gym, muscle strength and working on her core were top priorities. "You need to be pretty strong to ride these 1,200 pound animals." Barre classes at Sessions were also in the mix as they were helpful with flexibility, tone and strength.

In May 2015, an opportunity came up for Cindy to lease a new horse named "Face Off", also known as Ross. He arrived in Bermuda from Canada having been successful in the Hunters on the Ontario show circuit, even competing with his former owner at The Royal Winter Fair. Ross was a great new mount who knew his job and knew how to do it well. They competed in many Hunter shows from 2015 until January 2016 when Cindy had a life-changing accident while warming up for a class at a horse show.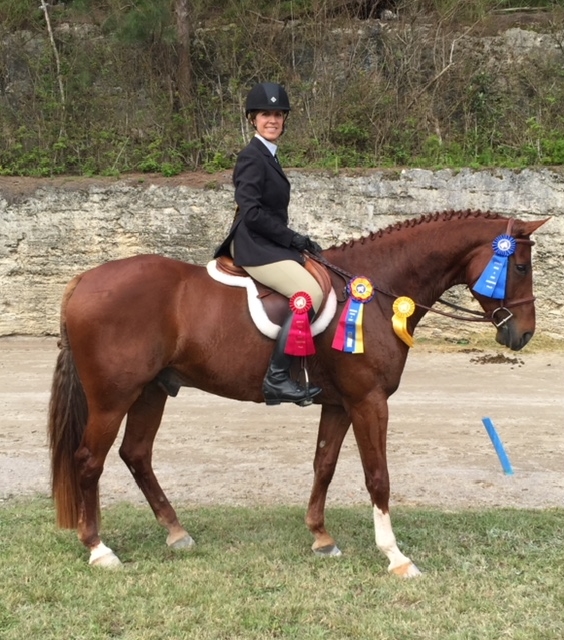 Cindy & Face Off in October, 2015
January 30th, 2016 was a wet and windy day with the show being postponed until the afternoon because of the inclement weather. Once in the warm-up ring, some of the horses began 'acting up' due to the cool temperature and wind and Ross was being a little reactive to this. Cindy had just completed a few jumps when a horse in front of Ross started to rear. "He saw that and immediately put on the brakes. He did a hard spin to the right that threw me off his left side, and I landed on my left hip really hard."

As a rider, Cindy has had her share of falls without significant injury, as "it's part of the sport". However, this was different when she realized she was not able to get up. She was rushed to the hospital where she discovered that she had fractured the neck of her left femur. She went into surgery that same day, and the surgeon inserted a Dynamic Hip Screw. "I just couldn't believe that in a second my life had changed. I didn't know if I would ever ride again."

The road to recovery was painful and difficult. Cindy had to work to regain mobility, spend six weeks at home, take three months off from riding and attend physiotherapy several times per week. "It was very important to follow every direction given by my surgeon and physiotherapist as I was determined to get back to how I was before the accident."

As part of the recovery process, Cindy was back at Court House as soon as she could – initially doing light training then rehab training. Such exercise was helpful for getting her leg muscles strong and working again. "My leg muscles were completely atrophied, and it was pretty scary how much strength I had lost following the accident". Three months after the surgery, Cindy was able to ride again. With help from her riding instructor, she gradually began to incorporate more and more back into her riding until, eventually, she was able to compete in a few shows again.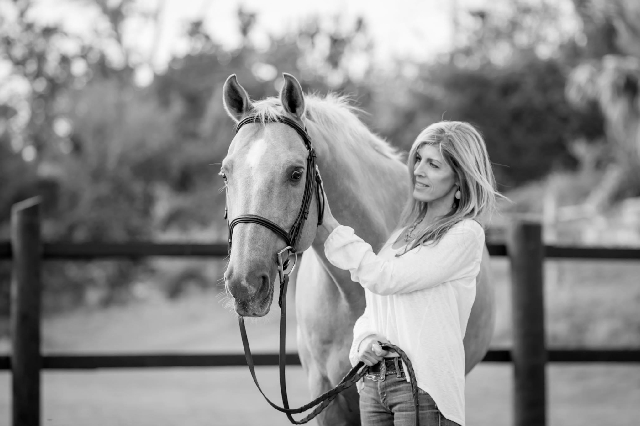 Cindy & her horse 24 Carrot (now retired)

Just as Cindy thought she was almost back to normal, her condition worsened. Unfortunately, one of the risks of her surgery was the development of Avascular Necrosis, the restriction of blood flow to the bone. Towards the end of 2016, Cindy started to experience severe pain and stiffness in her left hip/leg, causing a severe limp. After a follow-up consultation with the surgeon, a full hip replacement was deemed necessary. With deteriorating muscle strength, her ability to handle her normal daily routine became more and more difficult and once again, riding had to take a break.

The hip replacement was carried out on March 30th, 2017 by Dr. Ronan Treacy, a visiting Consultant Orthopaedic Surgeon, known in Bermuda for this procedure. The operation was followed by another six weeks off work, but this time she was able to start physiotherapy right away making her recovery a lot quicker than the previous surgery. One day, several months after the second surgery, Cindy ran into Sue Pell at Court House and shared that she was looking for a trainer to help with her rehab and to help her build muscle and gain more strength. Sue knew she had just the person. Her pick was Samantha Pardoe, Personal Trainer and Group X Instructor.

Sam is an expert on rehabbing and relishes a challenge. After an InBody assessment, Cindy and Sam started a series of 25-minute personal training sessions twice a week. Sam noticed how focused Cindy was from the start. "Knowing that she wanted to get back on her horse and compete again, she listened to my advice and followed a training regime outside of training with me. She changed her food habits, and as time went on, she came to trust that what we were doing was beginning to change her body."

It has only been five months since Sam started training Cindy and they already see the right results. "We just did another InBody exam, and there is a definite improvement." Due to Cindy's specific goal of gaining strength to ride, Sam built a regime to help her achieve just that. "With her goal of wanting to be on the horse, she needed strong legs and glutes. These particular exercises are key, not only for strength but for Cindy's mind to show her that the operation was successful and she can do whatever she wants."

Cindy's willingness to trust in Sam and believe in herself are helping her to see results very quickly. When she first started, she didn't have the leg strength to do step ups. "Several months later I tried again, and did it with no problem; Sam and I were hugging each other afterwards. That was a huge accomplishment for me. I trusted her that I would be able to do it."

On November 18th, 2017, Cindy competed at the Inwood Hunter Jumper Show and won back the same trophy that she had won the year before.

Sam noticed over the last month that significant changes were happening and it was getting to the point where she would be able to compete again. "I couldn't believe that she did it. She told me that she was going to do the show but withheld the results from me until after she won. So very proud."

When asked what kept her going through this ordeal, she credits her supportive husband Graham, family, friends and, of course, horses as significant factors in her recovery. "I thank a lot of people for how I feel today. It was a tough year for me. There has been a lot of love and support with me on this journey. It is frightening how one day, one moment, one event can alter your life. I was determined to recover from this, and it was important for me to stay positive and find a way to do so. I am very grateful to Sam and the team at Court House for all their encouragement and support".

We're thrilled for Cindy and wish her continued success in her recovery and riding pursuits.