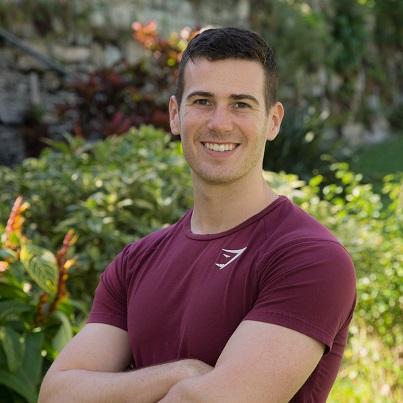 How was the experience representing Bermuda in the Caribbean Championship game against the Cayman Islands?
It was good fun. I really enjoyed getting back to my Rugby this year. While we were training for the Bermuda Triple Challenge I tore a tendon in my foot so I took two years off to avoid injuring myself during the build-up to the Red Bull Youth America's Cup. Cayman was a tough game with the humidity and unfortunately, we had a player sent off after fifteen minutes so we were working even harder because we were 14 men against 15 for most of the game.
I'm disappointed that we lost by one point but I think that has given us a real incentive to go for it next year. That one point difference means that we still have hope, the incentive and the drive to take it further because there wasn't a game in the Caribbean Championship where any one of us thought that we didn't have a chance of winning.
Has rugby always been your main sport or are you a sports enthusiast?
I've always been a jack of all trades, master of none. I've always enjoyed being active. When I was in England I played football and cricket and a little bit of rugby as my school was a big rugby league team in the north. When I moved to Bermuda I played football for a couple of years but ended up finding the Rugby Football Union so much more welcoming. It's a much tighter knit community than football, I suppose as fewer people play the sport and everyone knows everyone. Also, the mentality behind rugby is unique, you can smash each other for eighty minutes and come off the pitch and be best mates again.
How much of a role did the Red Bull Youth America's Cup play in how you view fitness now?
Massively. One huge thing they taught me about training is that the most important thing is consistency. It's so easy to get frustrated when you are not seeing the results with immediate effect. For example, we often say, I'm going to try another program or a different diet, rather than saying, I'm going to commit to it for six months or a year and then evaluate. When you have a strength and conditioning coach you don't have the luxury or burden of changing your program. What he or she writes on the paper is what you have to do. What your nutritionist is saying you have to eat is what you have to eat.
I saw the biggest differences in my physique and my fitness levels when I stopped second-guessing and committed to things for a longer time frame. Another important point is listening to your body. A new thing that I am introducing into my training is RPE - Rate of Perceived Exertion. It's the idea that you are not always going to be able to hit the same weight every day because of all of the stresses going on in your life but as long as you are hitting that level of exertion that is when you call it.
Do you still train as rigorously as you did with Team BDA?
Elements of it, yes. I don't do as much of the high-intensity circuit training. That was very targeted to how we worked on the boat. For example, it could have been two minutes of dead hard grinding followed by pulling ropes and sled pushing. I enjoyed it but don't find those exercises as applicable to Rugby.
My big focus right now is on my strength levels. I find the best way to get them up is by training simple. There are so many plans available now on the web that can complicate it, you see people doing bicep curls using cables, standing on a BOSU ball on one leg while trying to hold a kettlebell on their head. For me it's about training with simple compound movements, your bench, your squat and your overhead press, and trying to progressively overload. It is important to keep track of what you are doing so I'm trying to stick to my compound movements and get those up as well as improving my get my cardio fitness.
How does your training regime set you up for a good mental state?
It makes me feel good. I like being able to get in the gym no matter what kind of day I've had, whether I'm in a foul mood or had a fantastic day, I just love to get underneath a heavy barbell and start squatting. There's almost something cathartic about it. Also, knowing that not everything is going to come immediately but if you keep working towards a goal and follow your progress, it makes a big difference.
At what point did you consider becoming a group exercise instructor?
I've been in the gym since I was 16 years old and have always enjoyed fitness. Last year with Team BDA we were doing spinning classes as an additional cardio top up and used it as a way to get out of the gym on a daily basis. It was good to get in a different facility and environment and work hard for 40 minutes. Shortly after that, an opportunity came up to take a Spinning Instructor Certification so I thought I would give it a try and ended up really enjoying it. After I finished university and returned to Bermuda I started teaching at Court House.
What value does Technogym bring to Group Cycle classes?
Teaching at Court House West is a joy because everything is so synced up. Being able to see your numbers on the screen is a great motivator. When I am teaching it is not about me, that is not my workout as my focus is on making sure all of the members are getting the most out of the class and achieving their goals. But, when I am taking part in a class I am so competitive. When I see someone that has more power than me, I can't stand it, there's no way I can allow that - even if the bikes are calibrated differently I will still go max power and just kill myself for half an hour because I don't want anyone to have a better score than me.
Technogym also allows you to download your data after your workout and keep track of your fitness progress as you go along. You can see your improvement over time which is massive. It offers more incentive to train when you can actually see the results.
For members curious about Group Cycle classes, what would you say?
Give it a try. All of the instructors at Court House are so friendly and accommodating. At the beginning of class, we ask if there are any members who are new to Group Cycle. Feel free to come up to the instructor and voice concerns or raise questions. We will walk you through everything to do with the bike, get you set up properly and will teach you all of the different positions that you can go through.
Ultimately a class is as hard as you make it. Whether it says beginner or advanced in the description, you're the one that is in control, adding resistance, so it comes down to how hard you want to push yourself in that workout. If you're a beginner and you don't feel as comfortable, don't give it as much resistance. If you're an advanced cyclist and go to a beginner class, keep adding resistance and you'll get an advanced workout.