FIVE reasons to join Court House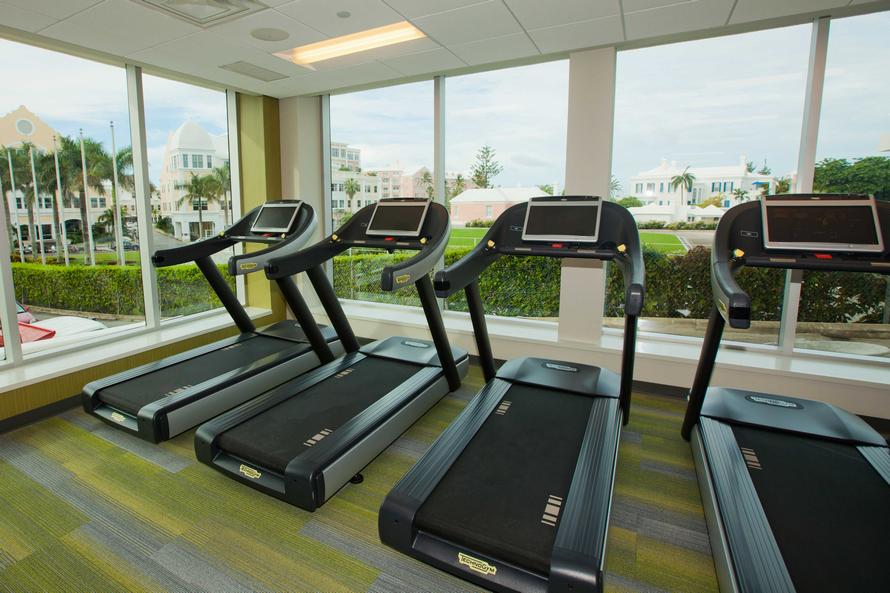 Two Locations

Court House Squash and Wellness is Bermuda's leading fitness club, comprised of two locations in Hamilton, which are purpose-built facilities designed to transform the fitness experience for members. From cutting-edge equipment and technology to special touches such as luxurious locker rooms, we are here to serve your fitness needs around the clock.

Court House Central, on Victoria Street, features innovative cardio equipment available from Technogym and has everything from free weights to selectorized and cable equipment to provide challenging workouts. Three air-conditioned squash courts, a Group Cycle studio and Group Excercise classes at Sessions studio, make this location popular with busy professionals throughout the day and night.

Court House West, on Pitts Bay Road, is also fitted out with Technogym equipment and is our newest location showcasing the future of fitness and technology with mobile integration and engagement. You can expect everything from cardio to free weights, cables and functional equipment, a squash court and a Group Cycle studio providing an explosive riding and inspirational experience.

Cutting Edge Technology

From purpose-built facilities, cameras, electronic key cards to world-class fitness equipment provided by Technogym, we invest heavily in the Club to provide members with the best experience. Technogym is the world leader in the Fitness and Wellness solutions sector and has equipped 65,000 wellness centres around the world.

Both locations carry a wide range of Technogym equipment and are connected via Wi-Fi to the My Wellness Cloud allowing members with the Technogym app to track their wellness data anywhere, anytime. Members can also scan the QR Codes on each machine to watch videos to get workout tips, and for those who Group Cycle, their RPM, watt output and heart rate will appear on the screen at the front of the class, creating a compelling shared fitness experience.

We're also at the cutting edge when tracking an individual's progress throughout their fitness journey. At Court House Central, we have an InBody 570 Body Composition Analyzer that has revolutionised body composition analysis. It analyses body fat, muscle and total body water. An InBody machine is a powerful tool as it maps data to provide a useful benchmark and gives insight into what the individual needs to do to achieve their goal or reduce health risk.

Through the Courthouse.bm website, members can access their account, book classes and join a community of like-minded people who prioritise fitness.

Convenience

What sets Court House apart is convenience. We have designed the Club to serve the needs of a variety of lifestyles. Members find great value in working out 24/7 - 365 days a year. Through a diverse membership, we have learnt over the past eight years that it is critical to creating a culture that is mindful of the modern workforce. Once you sign up and have your key, you can exercise whenever you want and at any location.

The access to the best fitness facilities doesn't stop when you travel either. We are a proud member of the International Health, Racquet & Sports Club Association (IHRSA) and support the IHRSA Passport Program allowing members to work out when travelling to other participating IHRSA clubs worldwide. There are over 3,200 IHRSA member health clubs in more than 50 countries to choose from.

We are also proud to have a reciprocal agreement with the Cambridge Group of Clubs based in Toronto, ON and Montreal, QUE Canada.

Our Team

'Provide the best to get the best' is the philosophy of Richard Burns, the founder of Court House Squash & Wellness and 30-year veteran of the fitness industry. Our members can rest assure that no health and fitness goal is too high. Our diverse team of personal trainers and instructors provide a wide selection of characteristics, styles and specialisms. We take great pride in selecting the best talent and supporting our team members in their health and fitness development and pursuits. With friendly faces from Bermuda and abroad, you can feel at home here very quickly.

Value

If a friend told you that you could join a Club that specialises in transforming lives and connecting like-minded people for the cost of a latte a day - would you believe them? It is a myth that Court House is the most expensive fitness club in Bermuda. In fact, when you run the numbers and total the cost of attending several classes a week or tally up other memberships plus an initiation fee and classes, you'll be shocked! Most people don't know the real cost until the dreaded annual credit card bill. By then it is too late.

We proudly stick to what we do well and provide members that are seeking what we offer the best we can provide. We go beyond the 'gym' and provide members with a fitness club experience that has two locations, over fifty fitness classes and four air-conditioned squash courts.

If you're looking for a place to call home or at a gym and feel that you deserve a better experience, stop in for a visit and see if we meet your expectations.