Court House COVID-19 Member Update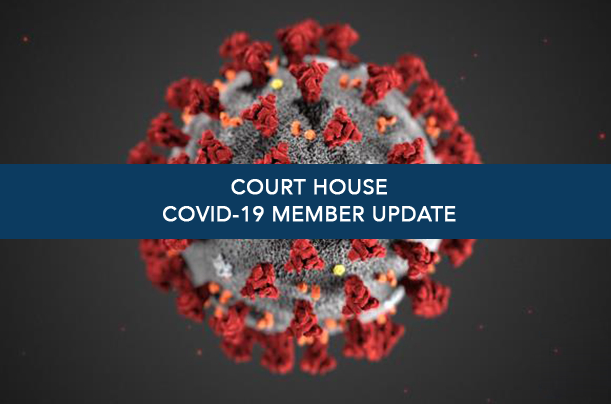 With the well-being of our members, team and community in mind we have made the difficult but important decision to postpone all classes at both locations from Tuesday, March 17th. This also includes any squash fitness classes and clinics. We will update members when classes resume.

The Junior Squash Tournament planned for March 25th and 26th, and any future events will also be postponed.

Our gym facilities remain open. We continue to clean our locations multiple times a day and we ask that members help us mitigate the spread of any illness by following these everyday hygiene guidelines:
Wash your hands often with soap and water for at least 20 seconds, especially after going to the bathroom.
Wipe down all equipment before and after use with the medicated wipes provided.
Use a personal towel as a barrier to catch personal sweat, especially when working out on the cardio equipment. Those who do

NOT

have a towel will

NOT

be allowed to train.
Avoid close contact with people who are sick.
Avoid touching your eyes, nose and mouth.
Cover your nose and mouth with a tissue or your elbow when you cough or sneeze.
Stay home if you feel unwell.
The number-one preventative measure is to not come to the gym when you are sick, especially if you have a fever or cough. Court House wants to be proactive and support the efforts in keeping Bermuda protected.
If you are returning from travel off-island, please refrain from coming to the gym for 14 days following your return.
Please refer to Bermuda Government's instructions regarding travel and arrival restrictions. We urge all members to pay attention to all government notices so that we all do our part to protect our island.

For more information, please visit Bermuda Goverment's COVID-19 website: https://www.gov.bm/coronavirus
Thank you,
Court House Management Team