Court House and JRG Reinsurance partner on First Annual Squash Series
Hamilton, Bermuda, February 22, 2017— JRG Reinsurance and Court House Squash and Wellness team up for the first annual Squash Series designed to expose youth and adults to squash.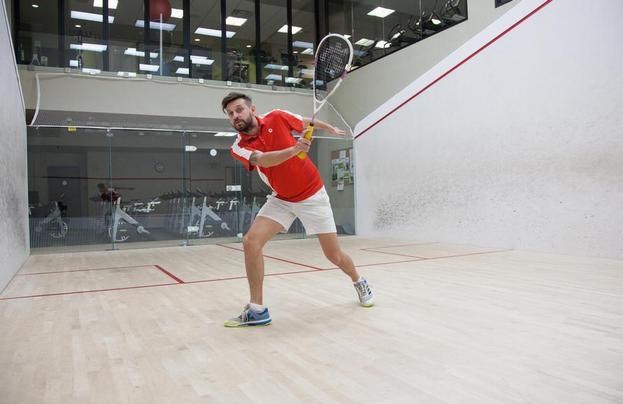 Kristen Johnson - Squash Coach at Court House
The JRG RE Squash Series will run from March 6th to 10th and is set to be an action-packed week of squash activities. During the week, there will be free coaching sessions for beginner to advanced players, a handicapped tournament of 16 teams, a junior squash open and an exhibition game with players from home and abroad.
Kristen Johnson, Squash Coach at Court House said "the JRG Squash Series offers every standard of player a chance to sink their teeth into some competitive squash. From free clinics and a Bermuda Junior Open all the way through to watching professional squash, the JRG RE Squash Series has everything".
The free clinics will run daily throughout the week at Court House Central on Victoria Street, one of two fitness club locations, and will prepare youth for the Junior Squash Open and adults for the Team Tournament. ­
With sponsorship from JRG Reinsurance, eight boys and eight girls will have the opportunity to compete in the Junior Squash Open for an all inclusive trip to a Junior North American Squash Tournament with the runners up receiving three free squash lessons each.

President of JRG Insurance Company Ltd., Dennis R. Johnson, is eager for his company to be involved in the series, stating that "JRG Re has been part of the Bermuda community since 2008, and is happy to work with Court House to sponsor the 2017 JRG RE Squash Series. We have donated to various Bermuda charities, but this is our first sponsored sporting event".
The Team Tournament will comprise of 16 teams of 3 players competing for top ranks in the handicap league. The last night of the series will be a high point with a 4 player final of elite players. Micah Franklin (WR 154), Noah Browne (WR 228), Lewis Walters (WR 137) and Kristen Johnson, will battle it out for the title.
If you are interested in participating in the JRG RE Squash Series email Kristen today or call 441 292 8357.